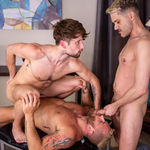 Published on September 10, 2020
Bearded hunk Dolf Dietrich and monster hung Saul Leinad start by telling us exactly what it is they like when it comes to sex. We then cut to the interracial couple, making out while still dressed. Dolf wastes little time in dropping to his knees to unleash the big brown uncut monster hiding in Saul's pants. They get into some dirty talk as Dolf services Saul and tries to take the thick meaty slab. But Saul is just too big...for Dolf's mouth! The two strip down and Saul preps Dolf for the main event. But even as he tries to bury that fucker home, Dolf wants more lube. It's just, as Dolf says, "so damn big!" It takes a couple of attempts but Saul eventually slides every single inch of that monster cock home. It's a sight to behold as Dolf takes all that meat then gets plowed by Saul, who bareback fucks the handsome bottom the way he likes to be taken. Dolf ends up riding Saul's bearded face before seeding himself while rides Saul's cock, having just spilled a fresh load of raw jizz.
This video was uploaded by the independent content producer indicated. Independent content captures real sex between real men and offers a fresh and fun alternative to studio-produced porn.

If you believe this video infringes on any rights or laws, or doesn't meet the standards expected of this site, please report it immediately by clicking the 3-dot menu and choosing the appropriate reason. The video will be immediately removed and reviewed by our Compliance Team within 24 hours.