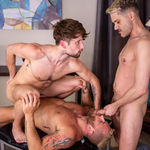 Published on November 30, -0001
Filming Mateo Fernandez and Josh Stone, we were reminded of scoops of vanilla and chocolate ice cream slowly beginning to melt and swirl together. We sensed how they might taste, and imagined their flavors bursting on our tongues. And we're sure your mouth will water at the sight of them, as ours did! As Josh goes down on Mateo -- somehow he manages to deep throat the monster cock -- you swallow in anticipation because you know the massive meat must be delicious. But this is about so much more than ice cream. It's about a budding love, passion, and sex so textured you can practically touch it. It's about a cute white boy and an unbelievably hung brown boy, so lost in their desire, they forgot we were even there. Now, Josh has taken a lot of dick but never one like this. As Mateo slid his throbbing tool inside the willing, pink fuck hole, he pushed all of Josh's buttons, ticked all the boxes, and drove him wild. How do we know? Josh was fully hard as he straddled Mateo, taking every inch of the enormous cock deep in his ass. Josh eventually blasted a copious load all over Mateo's chest and abdomen. And when we say all over, we mean it! Mateo shot soon after, and Josh licked it off his cock, tasting his own ass juices in the process. Hmmm. Doesn't that make you want to go for a bowl of ice cream?
This video was uploaded by the independent content producer indicated. Independent content captures real sex between real men and offers a fresh and fun alternative to studio-produced porn.

If you believe this video infringes on any rights or laws, or doesn't meet the standards expected of this site, please report it immediately by clicking the 3-dot menu and choosing the appropriate reason. The video will be immediately removed and reviewed by our Compliance Team within 24 hours.