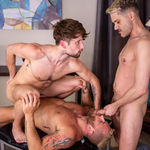 Published on October 21, 2020
A song from a Broadway musical claims "there ain't nothing in the world like a big black man." We'd have to agree. More importantly, Hugh Hunter also agrees. The tattooed muscle hunk daddy is paired with bald and tattooed Leo Donato, who slobbers all over the white man's fat cock and slurps on his cum-laden pink balls. After worshiping Hugh's cock and balls, Leo spins him around and devours the hairy ass presented. Leo makes a meal out of the scruffy hunk -- from the pink puckered starburst to Hugh's cock and balls -- before teasing him by rubbing the length of his big, fat, engorged cock against Hugh's ass. The two switch and Leo ends up on his back, ass up in the air, with Hugh rimming and tongue fucking his twitchy brown hole as if he were eating out pussy. Hugh clearly knows what he's doing as Leo gets lost in pleasure, moaning and sighing and adding a little something extra as he talks dirty in Spanish. The way Hugh eats out Leo will set your tongue to wagging and make your mouth water, especially as Leo keeps muttering, enticing Hugh to continue his expert rimming. Hugh slides that fat slab balls deep inside Leo and starts bareback fucking his sweet brown ass, sending Leo into even more Spanish dirty talk. The two soon switch it up, flip fucking bareback, with Hugh on his back, legs spread wide to take the full, raw onslaught. In the end, after they've blown big juicy loads of jizz, they let us know EXACTLY how the felt during their scene. HAWT!
This video was uploaded by the independent content producer indicated. Independent content captures real sex between real men and offers a fresh and fun alternative to studio-produced porn.

If you believe this video infringes on any rights or laws, or doesn't meet the standards expected of this site, please report it immediately by clicking the 3-dot menu and choosing the appropriate reason. The video will be immediately removed and reviewed by our Compliance Team within 24 hours.